Our Guest Bathroom, as seen here:
Came with no bathroom hardware- beyond the towel rack on the shower door. No towel racks, no towel rings, no hooks, nothing.
After washing my hands and bathing Sugar Bear for the first time, I realized how big of a problem this is. There was no where to really dry towels. Yikes.
I know that this is our one and only 'guest bathroom' but on a daily basis it is also the "kids bathroom" (not pregnant or planning to be, but calling it a kid bathroom sounds sad). So it has duel function- guests and kids.
So my goal, beyond my
bathroom inspiration here
, i
s to make it a kid (read: Fun) friendly guest bath. As soon as I saw these hooks, I had found the perfect match: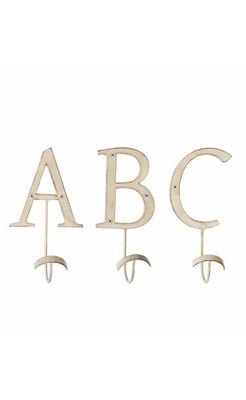 Since our last name begins with a "W" I bought- four hooks.
WXYZ.
They have arrived, and they are awesome. Some paint touch up work needs to happen- but once that is done- I can't wait to use them.