What does our bathroom really need?
No. Not some random kid, but some fluffy white towels. Seriously, if I had some, I'd run home right now and take a long hot shower just so can wrap myself in some fluffy goodness.
But of course, if you know me, you know that I don't want just any fluffy towels. Of course, they have to be eco-fluffy towels.
I embarked on my hunt for some eco-friendly towels a few weeks ago. With left over wedding gift cards in hand, I had my sights set on these organic towels from
West Elm
.
Verdict: no fluff in site. These towels were so thin, they left nothing to be desired.
So I headed over to West Elm's big Sister, Pottery Barn. I've loved Pottery Barn towels since I lived with my sister and coveted her fluffness.
Verdict: They don't carry their
Organic Towels
in the store.
BUT I learned something even more important. When you buy towels it's very important to look at the gram count. Just like the thread count in sheets, the gram count helps with the softness and the towels ability to actually soak up water.
The
regular Pottery Barn towels
are a luscious 820-grams, while the Organic towels are only 600-grams. Which, according to the lovely lady at PB- is as low as you want to go, and after seeing the 600-gram West Elm towels, I was less than impressed.
Humm, I had a lot to thing about. So of course, I ran home and did a quick internet search.
Seriously, I've taken this eco-towel obsession to new heights.
A few clicks later, I found them:
Crate and Barrel Organic Towels
with a 700-gram count.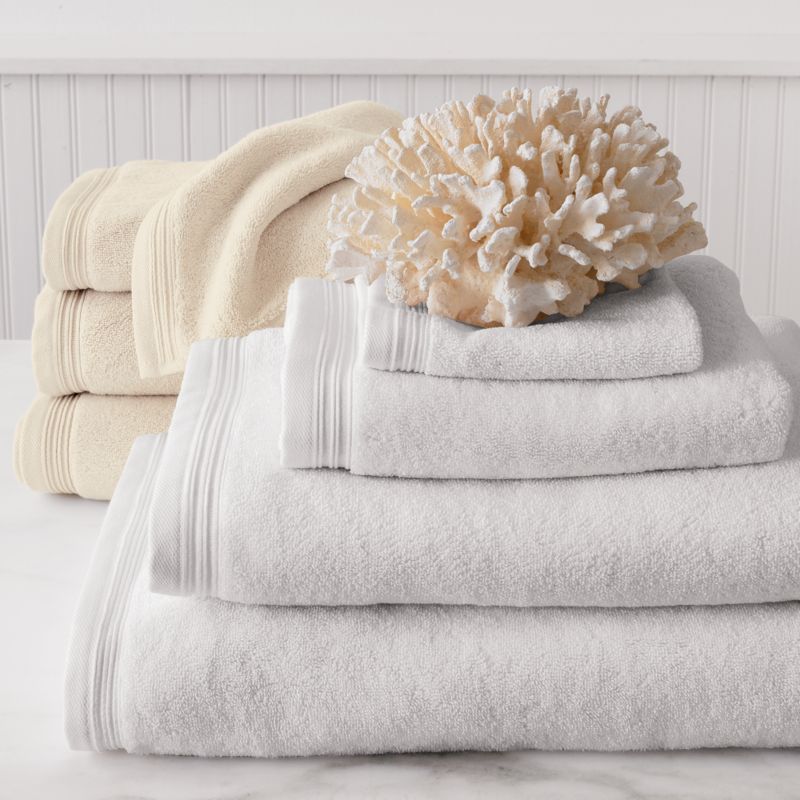 Maybe not as high as the standard Pottery Barn towels, but pretty darn good if I do say so myself.
The problem, they are currently SOLD OUT of the white towels. But seeing as they have been sold out before, I'll patiently wait for them to be back in stock- and this time I won't wait to snatch up these eco-fluffyiness!
How do you dry yourself off??