As promised yesterday, we are officially on the (low budget) hunt to update our apartment.
I don't know if any of you noticed but this winter we ditched the rug in our bedroom.
Before:
After:
About 3.5 years ago, I somehow scored the rug for around $100 from West Elm. While the color was great when we bought it for our last living room, we had massive issues with it from the start. It shead like CRAZY. I was vacuuming it daily for awhile, and soon it start to really show the dirt. When we first moved it into our current apartment my friend begged me to ditch it, but I did my best effort to clean it up with Resolve. Finally, I couldn't handle how dirty and grimy it looked, plus the cat loved to use it as his scratching post, so up it went.
That leads us to today- on the hunt. For a bedroom rug. I really want to get this rug right this time, soooo I am being an uber planner and taking all facets of our bedroom decor into account.
If you recall, our bedroom last spring:
But then this winter, I mixed it up and added in more teal and took out the pink:
My original goal for this room was to have a 'beach-like' feel, check out my beachy-esque picture collage wall:
See where I was going with those blues and greens?
In my rug hunt, I have fallen head over heals for all rugs from Anthro (no real shock that they are all amazing):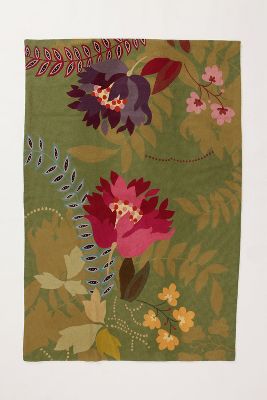 source: Anthropology
But based on our old rug and our current rug in our living room, I am starting to think that we need something (1) woven so the cat won't scratch at it and (2) darker, I love light rugs but HATE how dirty they get so quickly. And all the Anthro rugs all seem too delicate for this mess of a person.
Anywhoo. I've been on the hunt, and I found one I think is perfection:
I emailed it to Mr. Spice and he isn't sold on it yet. I am going to spend some good quality time telling him why this rug is the winner.
Do you think I can convince him?? Do you ever
tell
convince your spouse that something is perfect even though they don't love it at first?